Lotsa fun on a Thursday night at Balmain's Cat & Fiddle Hotel. Recession Busting ticket of ONLY $10 bucks!!
3 hours of songs that rocked the world with a blast from the past combo.. playing music like it REALLY was!! Give it up for...Laurie Rix and his SideKix.
See videos of TV shows and concerts from the good old days . Black & White magic.. Johnny O'Keefe, Bandstand, Six O'Clock Rock and much more..
If you want to dance.. go for it!!! Rockabilly, Rock, Jive, Swing, Line Dance, Two Step, Country.. whatever flips your lid!! We go the music for it all.
Links
Don't bring your ear plugs..
You won't need them!!

We respect your ears and beside that,
we want to see you smiling, talking and laughing!

The night is YOURS,
We just want to stroke your back!!
Make you feel good!!
Rogues Photo Gallery Here
(Email us your photos of the night)
LAST NIGHT OF SEASON JULY 8th.
Back in late September -early October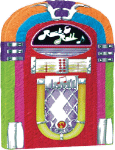 As well as the full on exciting music, to keep the level of fun way up there we have..
Be a local Idol: Your chance to sing a song, win prizes and and become local Idol of the Week!!
Who you gonna see: You'll never know just who you're gonna meet, maybe a star or two..
Rock Quiz: We'll throw out the easy questions and if you give us the answer, you win the prize!!
Prizes: Win a CD, Book or Dinner: Every ticket holder gets a chance to win.
Links
Table seating, beautiful bistro food,
all ages welcome, a ' warm as toast' room and all for the ridiculous..
recession busting admission of.. $10!!!
Book here for the show
or email here for more info
General Seating: First in best seats. Doors for show from 7pm.
Come eat dinner anytime at the..
friendliest pub in Balmain!