The SideKix are a group of guys who hang around on stage with Laurie Rix!!
They are all accomplished musicians who love to play their instruments and sing in the casual affair that is Rockabilly Frenzy!!
You could recognise them from being on stage backing the biggest acts from around the world to quiet intimate nights pickin' and a grinnin' all styles of music from jazz to yes, you said it.. Rockabilly!
Great guys - Great Music

Coming from the West on Victoria Rd take left into Darling, then about
4 blocks down on the right side.
Looking cool and casual!!
456 Darling Street
Balmain, Sydney
New South Wales 2041

Phone: 02 9810 7931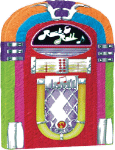 As well as the full on exciting music, to keep the level of fun way up there we have..
Be a local Idol: Your chance to sing a song, win prizes and and become local Idol of the Week!!
Who you gonna see: You'll never know just who you're gonna meet, maybe a star or two..
Rock Quiz: We'll throw out the easy questions and if you give us the answer, you win the prize!!
Prizes: Win a CD, Book or Dinner: Every ticket holder gets a chance to win.
Coming from East (City) on Victoria Rd., take rigtht into Darling, then..
about 4 blocks down on the right.
Table seating, beautiful bistro food,
all ages welcome, a ' warm as toast' room and all for the ridiculous..
recession busting admission of.. $10!!!
Book here for the show
or email here for more info
General Seating: First in best seats. Doors for show from 7pm.
Come eat dinner anytime at the..
friendliest pub in Balmain!