As one of the pioneers of Australian Rockabilly, he blazed a trail and helped expose this exciting music to the teenagers of the 1950's and early 60's..
His energetic vocal style helped turn on the music for many of Australia's future stars as such..
Billy Thorpe
Angry Anderson
Normie Rowe
Russell Morris
Super Blues group Chain..
and many more..

Like fine wine.. his unique style has matured and is now..
'Top Shelf'

He was one of them who had the beat that stopped the world!
..and he's still got it!!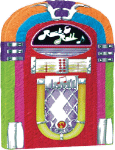 As well as the full on exciting music, to keep the level of fun way up there we have..
Be a local Idol: Your chance to sing a song, win prizes and and become local Idol of the Week!!
Who you gonna see: You'll never know just who you're gonna meet, maybe a star or two..
Rock Quiz: We'll throw out the easy questions and if you give us the answer, you win the prize!!
Prizes: Win a CD, Book or Dinner: Every ticket holder gets a chance to win.
Table seating, beautiful bistro food,
all ages welcome, a ' warm as toast' room and all for the ridiculous..
recession busting admission of.. $10!!!
Book here for the show
or email here for more info
General Seating: First in best seats. Doors for show from 7pm.
Come eat dinner anytime at the..
friendliest pub in Balmain!