Established in 1930 as the Star Hotel, the Cat and Fiddle Hotel is the second last hotel to be built in Balmain, the licence being transferred from the old Star Hotel in Mort Street.

A new awning had just been erected when the photograph was taken. The name Cat and Fiddle was adopted in the mid 1970's' possibly due to the pubs association with jazz bands.

Recommended reading:"Called To The Bar" 150 years of pubs in the Balmain-Rozelle area of Sydney NSW. The book is published by the Balmain Association Inc., PO Box 57, Balmain NSW 2041 Tele/fax 02 9818 4954 (Cost 2003 A$13 plus A$2.50 post/packing).

Coming from the West on Victoria Rd take left into Darling, then about
4 blocks down on the right side.
Coming from East (City) on Victoria Rd., take rigtht into Darling, then..
about 4 blocks down on the right.
This what the..
Cat and Fiddle looks like!!
456 Darling Street
Balmain, Sydney
New South Wales 2041

Phone: 02 9810 7931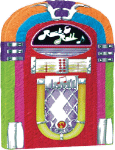 As well as the full on exciting music, to keep the level of fun way up there we have..
Be a local Idol: Your chance to sing a song, win prizes and and become local Idol of the Week!!
We take 2 contestants each week who will choose a song each. The band will judge them and the winner will ge a prize and be crowned.. 'Local Idle of the Week"
Who you gonna see: You'll never know just who you're gonna meet, maybe a star or two.. Who knows who is lurking around these hallowed walls.. Politicians who are not supposed to be here, other stars writing down song lists that Laurie and the guys sing, girls of the night, fishermen and maybe even a 'reverend' or two. After all Rockabilly is NOT the devils music!
Rock Quiz: We'll throw out the easy questions and if you give us the answer, you win the prize!!
Easy questions and if you know your early R and R muisc it should eb a breeze. 2 Contestants.. First to get 3 questikns right.
Prizes: Win a CD, Book or Dinner: Every ticket holder gets a chance to win.
Table seating, beautiful bistro food,
all ages welcome, a ' warm as toast' room and all for the ridiculous..
recession busting admission of.. $10!!!
Book here for the show
or email here for more info
General Seating: First in best seats. Doors for show from 7pm.
Come eat dinner anytime at the..
friendliest pub in Balmain!